Consumer Price Index for Australia during the first quarter rose faster than expected today, starting a day with many important data releases, including UK GDP, the US FOMC Rate Decision and RBNZ Rate Decision. Higher than surveyed CPI drove the AUDUSD to new record, passing the 1.0850 mark for the first time.
Higher CPI was expected as the year-over-year Producer Price Index for the first quarter, a preliminary indicator of the prices passed onto consumers rose to 2.9% during the quarter, versus a prior 2.7% and an expected 2.7%.
The Australian Dollar reached a new record high against its American counterpart immediately after the announcement, passing the critical barrier of 1.0850. However after the release, the AUDUSD has retraced some of its gains on profit taking, although at the time of writing the Aussie dollar appears to be trending higher again.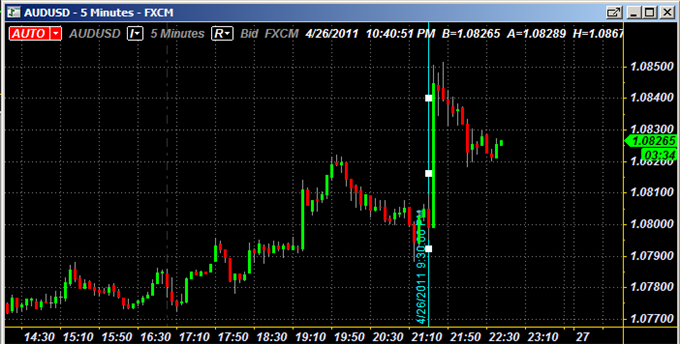 Although investors are expecting the RBA to raise interest rates in the face of higher inflation, the RBA has consistently reiterated their "wait-and-see" approach with raising the Cash Rate Target, currently at 4.75%, last raised by 25 basis points in November 2010. Furthermore, the central bank has said the stronger Aussie is having the same effect as raising interest rates, decreasing the demand for Australian goods and slowing the pace of foreign investments in Australia, suggesting an unlikely chance of a rate increase in the near term.
[adsenseyu1]
The Australian dollar should be closely watched for the rest of the day as other highly risk-correlated reports are in store, including British GDP at 08:30 GMT, FOMC rate decision at 16:30 GMT, and the first press conference with Federal Reserve Chairman Ben Bernanke. Better than expected data from Britain and an upbeat outlook from the Fed could drive risk appetite higher, enticing investors towards higher yielding assets and currencies. And at the end strength of XAUDUSD or gold symbol its depending from american dollar  index it self. If american dollar get strong so gold it would be weak. Just simple as it as. And remember, fundamental analysis should be filtered by technical analysis like candlestick basics reversal patterns it self.
[adsenseyu4]