Fundamental Forecast for Australian Dollar: Bullish The marked appreciation in the Australian dollar may gather pace going into May as investors speculate the Reserve Bank of Australia to tighten monetary policy further in 2011, and the policy statement accompanying the rate decision scheduled for the following week could strengthen the bullish sentiment underlying the high-yielding currency as investors increase their appetite for risk. Although the RBA is widely expected to keep the benchmark interest rate at 4.25% in May, the central bank may adopt a hawkish outlook for future policy as the headline reading for inflation expands at the fastest pace since the fourth-quarter of 2008, and speculation for higher borrowing costs should continue to carry the AUD/USD to fresh record highs as the pair persistently pushes above psychological barriers.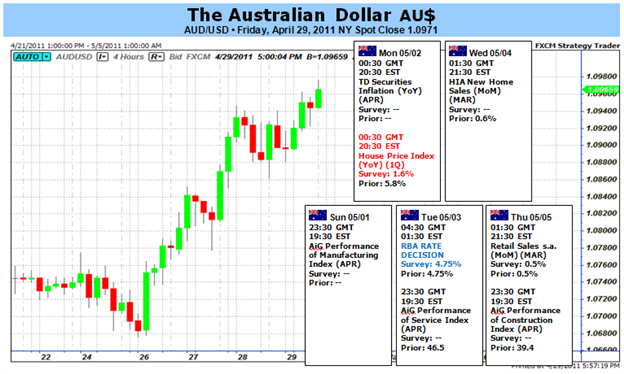 According to Credit Suisse overnight index swaps, investors are pricing a zero percent chance for a 25bp rate hike, but see borrowing costs in Australia increasing at least 25bp over the next 12-months as growth and inflation accelerates. At the same time, a Bloomberg News survey shows 21 of the 22 economists polled forecast the RBA to keep the cash rate on hold, while Nomura Australia is calling for a rate hike, and the central bank may retain its wait-and-see approach throughout the first-half of the year as the economic outlook for the global economy remains clouded with high uncertainty. As China, the region's largest trading partner, takes additional steps to prevent its economy from overheating, central Bank Governor Glenn Stevens may continue to draw up a neutral tone for monetary policy, and a relative balanced statement could spark a neat-term correcting in the exchange rate as rally remains heavily overbought.
[adsenseyu1]
As the relative strength index on the AUD/USD approaches the highest level since 2007, the likelihood of seeing a major correction remains limited until we see the oscillator fall back below 70, and the ongoing improvement in the Australian economy should continue to generate demands for the high-yielding currency as investors look for higher yields. Beyond the RBA rate decision, the 1Q retail sales report is expected to show another 0.5% expansion in household consumption, while a separate report is projected to show a 5.0% rise in build approvals following the 7.4% contraction in February. The slew of encouraging developments should prop up the aussie going into May, and the upward trend may gather pace going forward as economic activity in the region outpaces the recovery in the most industrialized countries.
[adsenseyu4]