Ichimoku technique is one of the classic and well-known technique from Japan that is quite complete in the analysis of market movements. It's just the technique I show here is the result of development which no longer displays the lines of "Tenkan cents", "Kijun cents" or "Chikou span" and "cloud " as the direction and strength of the trend. all been displayed in the text so that it looks cleaner.
Systems that are here have a lot of improvement in the ease of use, because Ichimoku actually very complicated and quite crowded in the chart.
System consists of indicators Ichi 360v5, Ichimoku monitor and KG Target level v.1.1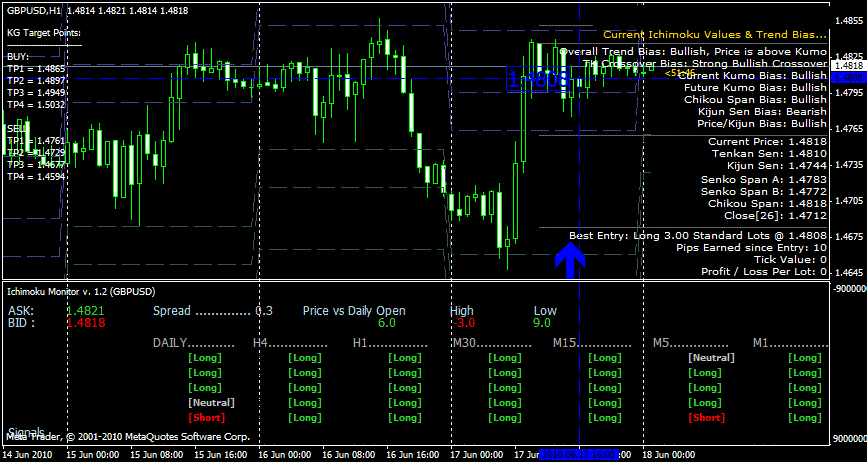 Here, you just wait for the signal based on the time frame that you like a blue upward arrows either red or down, which means the trend up and trend down.
The form also indicates the strength of the trend arrow, if the arrow straight and strong the trend is also analogous with the installation of large lots entry usually 3 lots, while for the weak trend arrows slightly tilted / inclined to the entry of small lots is usually 1 or 2 lots.
As a target profit, I add indicator KG Target Point V.1.1 for ease in which the placement of the target, of course TP nearest the easiest to accomplish. But if the trend is really strong get to TP 2, 3 or even 4.
It's really easy and simple system ….
Download Ichimoku Trading Strategies
Download Ichimoku trading strategy here.
I've hope this sharing on how to analyze forex market with accurate ichimoku forex indicators can help us to achieve some money from forex market.