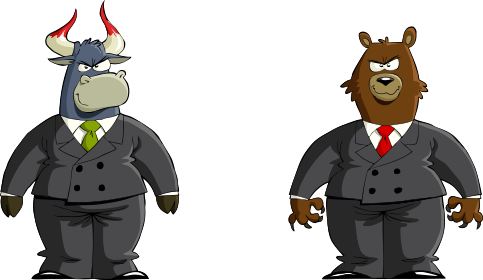 Definition Of Support Resistance
The beauty of support and resistance lies in its simplicity. Its validity has been tested over and over again throughout history and remains one of the most widely used analysis tool of all time. It works because it is based on simple crowd psychology. And as much as we don't like to admit it, we are basically the same irrational creatures we were a few hundred years ago.
If you could predict where the market is heading, you would be a millionaire. Unfortunately, no one has developed an indicator that will predict the future. Many indicators have been created that will give you a probable direction of the market, and among them, the concept of support and resistance has risen to the top of the pile.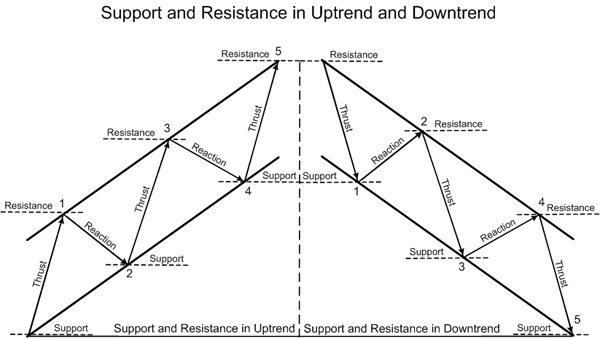 Example Support Resistance Levels
Support is a price level where the market has difficulty dipping below it because the demand is sufficiently high at that level. Support levels are always on or below the current price. In other words, the support line is where the price stops falling.
Here is an example from support levels :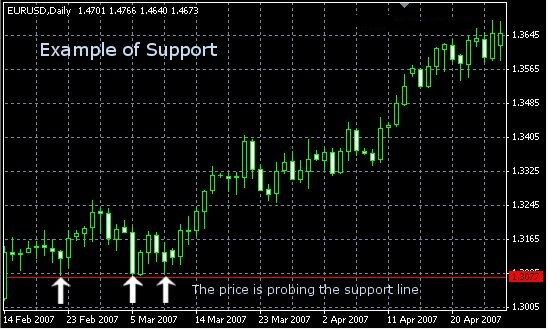 Resistance is the opposite of support. It is a price level where the market has difficulty surpassing that price level because the selling forces are strong at that price. Resistance levels are always on or above the current price. It is where the price level stops rising.
Here is an example from resistance levels :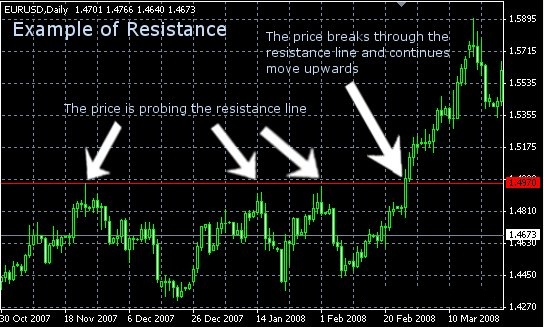 Strength of the Support and Resistance Line
Each time the price of the currency pair touches the support or resistance levels, it strengthens its validity. A psychological barrier exists at that price which will prevent it from dipping below the support line or crossing over the resistance line.
The support and resistance are given greater weight if it happens to lie on an even number. The psychological pressures are greater at these even numbers.
Our trading strategy recommendation from using this support resistance levels is very simple. We can use this accurate trading system with consistency if we filtering this support resistance level with economics indicators. So, this support resistance trading strategy still need to be filtering with fundamental analysis and candlestick basics knowledge.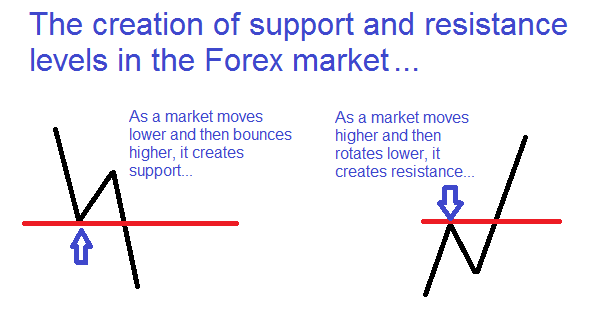 We only looking several price level that have been tested many times but failed. In my opinion at least has been tested at least three times with failed than break out. We can looking this tested levels on one hour time frame and if we found this strong support resistance levels we can put horizontal line at this levels and we marked it as strong s/r from one hour time frame. And if price action rejected at this strong s/r levels and confirmed with reversal candlestick patterns by see on smaller time frame, so it confirm as our valid signal entry and take profit levels can be located at strong support resistance level based four hour time frame.
We can use this accurate support resistance trading strategy with out any support resistance indicators. So, just look left from current running price to see strong support resistance level which have been tested at least for three times. This is our support resistance strategy tested and works.
And for my tips about using support resistance trading system is use highest wick body candle as looking resistance level and lowest wick body candle as looking support level.
Here again example my strong support resistance level below :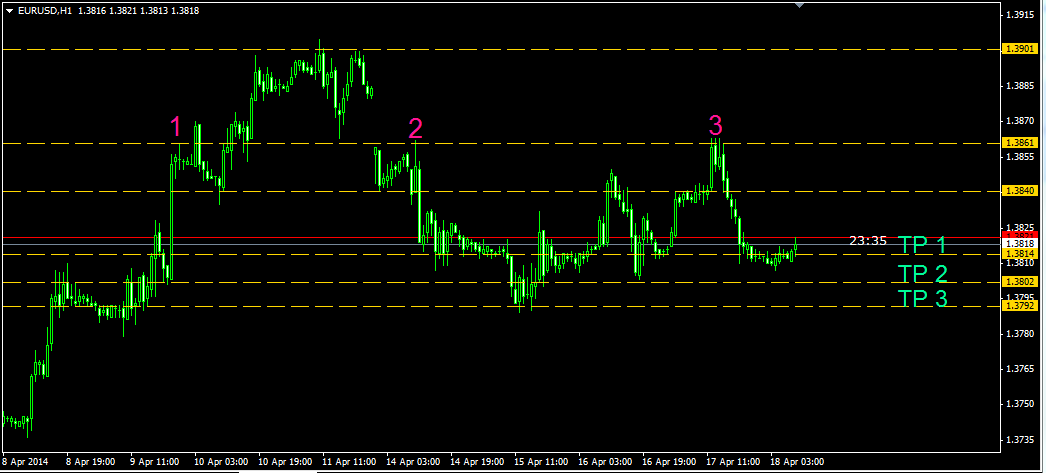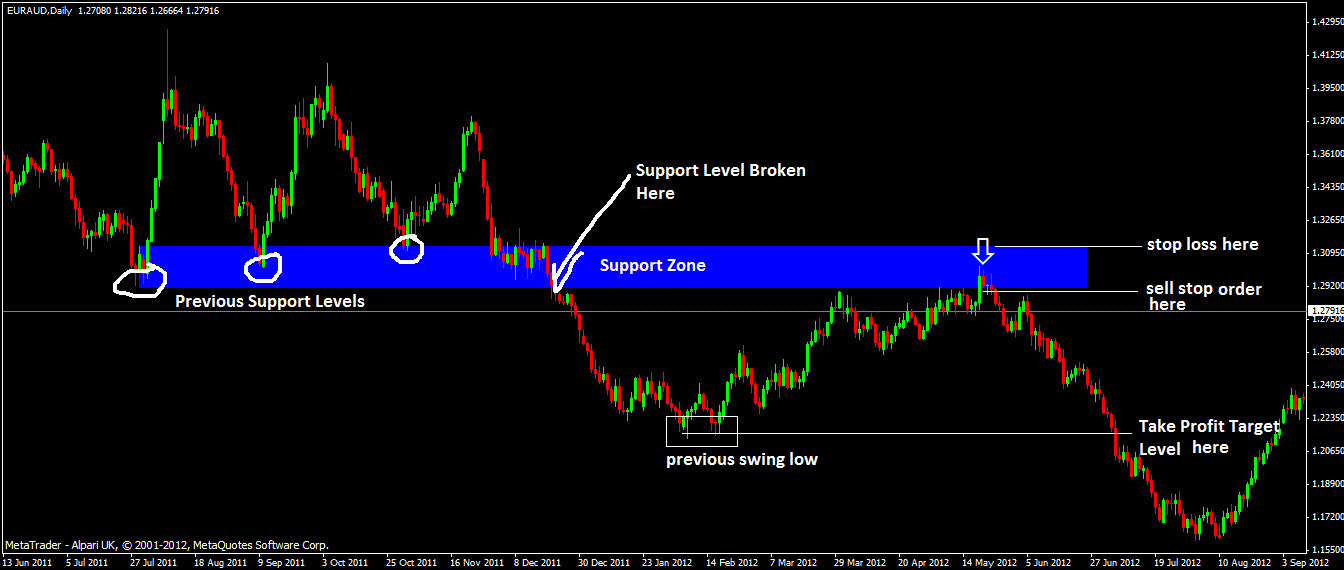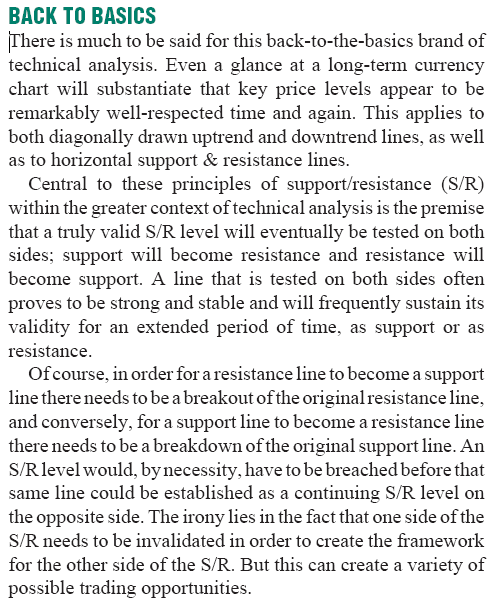 Don't Forget the Stop Loss!
Everything we have been discussing thus far is based on history and probabilities. The price can easily dip below the support levels, and conversely, it can easily break through the resistance levels. You are a smart one, and already know how to protect yourself from a disaster. You guessed it. Always have a stop loss strategy.
There is absolutely no excuse not to include a stop loss with your order. Forex is a game of percentages. You want to minimize your losses if the market does not go your way, and let your winners define your performance. It doesn't matter if you lose 10 times more than you win, as long as your winning trades profit more than your losing trades in the long run.
Put this knowledge into Action
So how do all this apply to you? Well, you should always be on the look out for support and resistance. It is surprisingly simple, yet effective way to trade. Buy near the support lines, and sell near the resistance lines. Lots of traders have successful careers based on this simple methodology. Here some reading about support resistance forex references.Try it out on a practice account and trading on our tested and honest forex broker recommendation and see how you can profit from support and resistance forex trading strategy.
Just for limited time, i'll release limited secret premium e-book based reversal candlestick trading strategy that can change your perspective how to read candlestick reversal pattern as our entry zone combined with multi time frame analysis to get sharp entry forex trading signals. Price only with $799. Performance can be seen at here. If interested e-book will send via email. Just email me if interested via contact us page.