This is one of my favorite breakout forex trading system. Breakout trading strategy is one pending order means we will only buy or sell at a specified point. We even can intercept a price with buy and sell all at once and not infrequently both hit Take profit, really nice …. for short-time trading with 10-15 pips profit target this system practically rarely fail.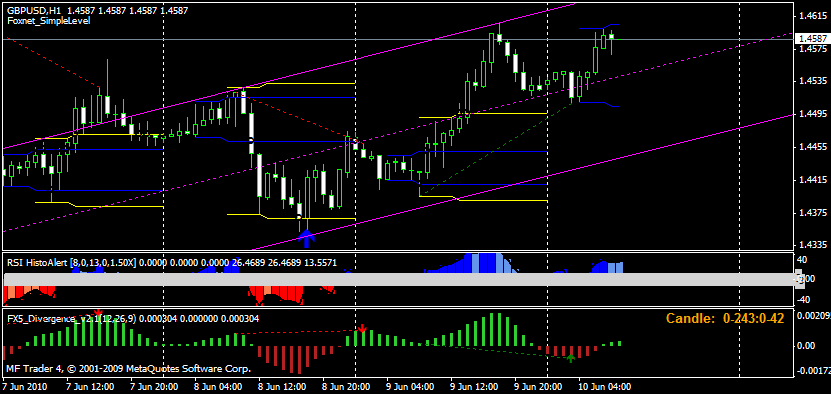 If you want relax let alone the price moves in advance, just wait for the emergence of two blue lines above and below the current price. Put a pending order buy stop on the line above and below the sell stop on the line. TP pairs 10-15 pips only. Usually when the market opened london … price breakout one line may be upward or downward because it pairs just let the trap of buy or sell …
If you want a bit of analysis, look at trend channel Purple color as the limit price movements, notice the RSI indicator His-to-Alert if the blue bar means the area of buy and if a red bar means the area sell. By doing so we will know where prices tend to move.
FX5 indicator diverging is powerful enough to predict where prices will stir the direction of the divergent lines are shown. Simply put, if the dotted line is upward sloping end means the price will go up and if it slopes downward means prices will go down.
Indicators and templates can be downloaded at the link below: (Can be used in the time frame for H1)
Download breakout trading strategy here.
This strategy uses the scalping method and is very applicable for day trading. And it is highly recommended to add confirmation of trend indicators and oscillators as a determinant of the direction of the trend in order to get an entry position following the trend. 
And moreover it will be very powerful if it is applied using the multi time frame analysis method, the method is by reading trends that occur in bigger time frames and then looking for momentum signals on small time frames of course by staying in the direction of the main trend on large time frames.
I recommend using the addition of a supply and demand zone and candlesticks reversal patterns on the time frame as a filter for marking the support resistance zone.
Test in No Deposit Bonus Forex Account or Pro Cents Account in Roboforex first in order using this simple breakout trading strategy.