A trend is a strong tendency for a financial instrument to continue its price trajectory, either up or down. Drawing trend lines for trading analysis on a price chart of any financial instrument can help you analyze past price action and predict future turning points, though you can never have 100 percent accuracy. It works well in the foreign currency exchange market (FOREX) where chart-driven analysis is common. While drawing a trend line may seem straightforward, some basic tips can ensure you draw it correctly.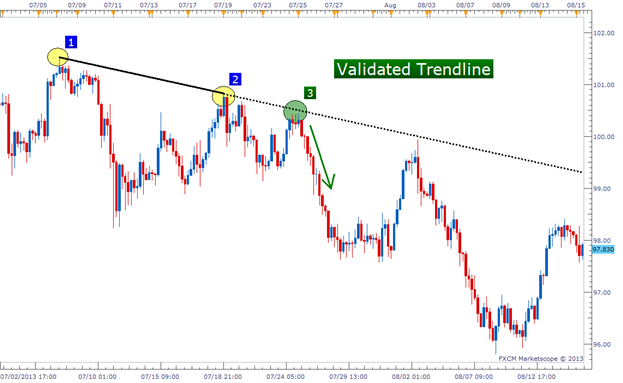 Here sample about true or false trendline below :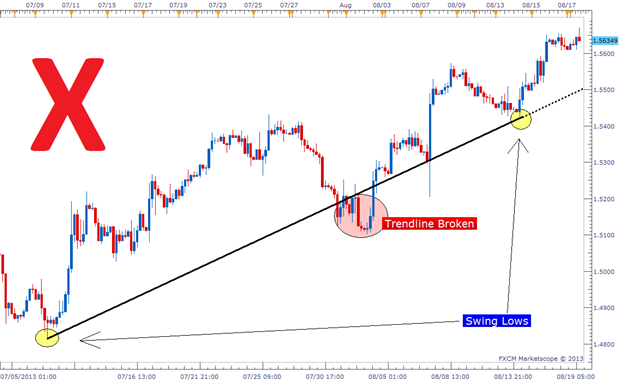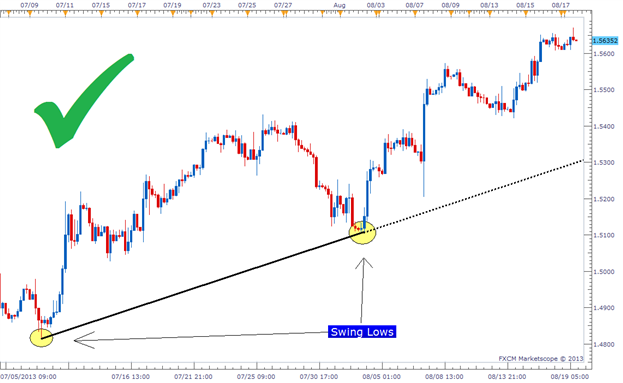 Simple Trade Setup From Simple Trendline Strategy
Connection Points
A trend line is a straight line that connects the consecutive peaks or troughs on a price chart, called "highs" and "lows." One tip is to make sure you only connect the low points if studying an up trend, or connect only the high points if drawing a down trend. The resulting line acts as an obstacle in the trend that must be broken by the price action in order to dissolve the trend. For example, in an up trend, the trend is broken only if prices break through a line connecting the low points in the trend. Such a move in prices would halt the pattern of the trend line and suggest a weakening of the trend, or even an imminent reversal. I think as a scalpers, trendline is a good parameters too to determine take profit area. Scalping for 10-25pips can be enough using this trendline technique. Usually this price action setup appear on this trendline level. And best for using price action are trading with top recommended forex brokers.
Add a Second Line
After drawing the first primary trend line, consider adding a second line to create the trend's visual "channel." A channel is a restricted price range between which prices may fluctuate in a trend. Unlike a single trend line, this dual-line drawing shows both the high and low obstacles in a trend. Not all trends demonstrate channel patterns. But when they do, this second, parallel trend line can add greater predictive abilities to your chart drawing by identifying not just the main obstacles to a break of the trend, but also the turning points on both sides of the price fluctuation.
Change the Price Scale
By default, most FOREX charting programs will show an arithmetic, or absolute, price scale that equally weights all prices along the vertical axis. By contrast, a "logarithmic" or "semi-log" scale instead weights percentage returns equally, such that a move from 5 to 10 is the same distance on the scale as a move from 100 to 200. This "squeezes" prices closer together at the top of the vertical axis. Such a scale setting can significantly change the alignment of consecutive highs and lows and make it easier to truly see a valid trend. Thus, your trend line may be easier to place on the chart.
Observe Multiple Points
A trend line, by definition, requires only two points, either two consecutive highs or two consecutive lows, connected by the line. However, as you look at a price chart and attempt to identify the best place to draw your line, consider one that will connect the greatest number of points. A trend is strong if its line connects many highs or lows. The More Connecting Points, the Better and using candlestick basics as reading confirmation as reversal or continuation from current major trend in big time frame h4-weekly.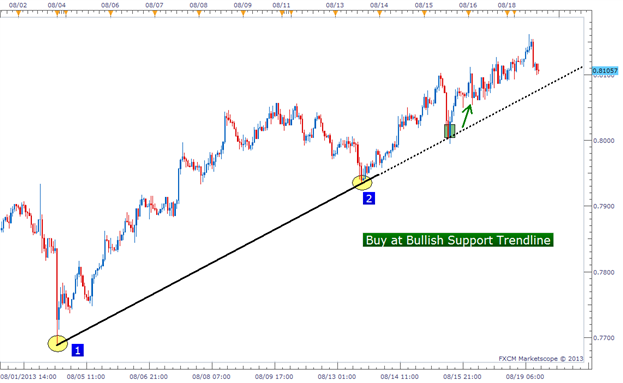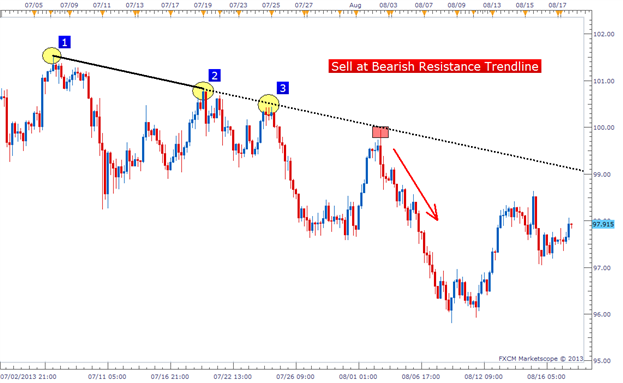 Conclusion
I've hope with understanding about this simple drawing trend lines tips, at least this trend lines strategy can be used as a measure of the strength of support resistance as a validation of our signals entry locations in order to minimize the risk and the tips are the more points that are connected at least 3 points in a trend lines line means the stronger and harder that level to breakout and do not forget to always using pinbar hammer as buyer power and inverted hammer as seller power to identify where location have a strong support or strong resistance.
And lastly, we can use this trend lines trading strategy as a scalping system or even swing trading strategy too and of course with trend lines breakout in small time frame as confirmation signals based trend line as support resistance based four hour time frame.
Practice with wise money management in using this accurate trendline setup forex trading strategy in ROBOFOREX PRO CENTS Account.