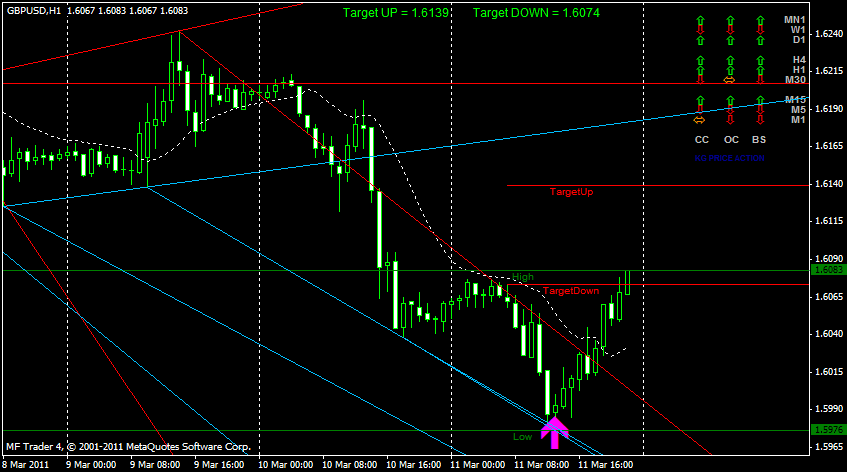 One of my favorite system, I am a big fan of trendline.Nobody knows for sure where prices will move unless the Lord of course, traders simply do an analysis and estimate only the direction in which and extent to which prices will move from the standpoint of the trading system.
In the picture looks red trendline as a resistant line and the line of blue trendline as support. Trendline create a visible pattern of price movements, which can be a support trendline that will shore up falling prices that climbed back upwards as well as resistant which will be the upper bound. Of course trendline could break if the momentum of price movement is strong to find the next support or resistant.
So how do I draw the line as above trendline?
Yups … I provide a direct indicator trendline drop multi-line automatically …. xixixi ….
This system consists of several indicators as follows:
1. Multi trendline, to find support and resistant
2. Trend direction, to determine the direction of the trend
3. KG Price action detector, to determine the trend toward multi-timeframe (optional) let me complete aja.
4. Dj, to the point of execution
5. Fibo Target, for placement target instant (optional)
Get Only Buy if:
1. Trend direction arrows pointing upward direction.
2. Dj Notice of white dotted line, make sure the price has closed cross and candles on top of DJ.
3. Place the target following the Fibo target for its instant (optional), because the basic system is exactly on his trendline. I personally would let the profits keep flowing until touching the trendline resistant.
4. Buy Re-entry can be done after the correction and re-cross to make sure prices candles Dj and closed above the DJ.
5. Enjoy the profits …
Take Only Sell position if:
1. Trend direction arrows pointing downward direction
2. Dj Notice of white dotted line, make sure the price is a cross and candle closed below the DJ.
3. Place the target following the Fibo target for its instant (optional), because the basic system is exactly on his trendline. I personally would let the profits keep flowing until touching the trendline support.
4. Sell ​​Re-entry can be done after the correction and re-cross to make sure prices candles Dj and closed above the DJ.
5. Enjoy the profits …
Please download the indicators and templates below:
Multi Trendline System
Incoming search terms:
how to know trend is complete in forex
Related Posts