Yes FBS forex broker provides this interesting offering for all traders that with only start as a little five dollars we can trades on ecn broker. With NO Commission + NO Swap + Pips start from 0.6pips and flexible deposit and withdrawal options and the most is safety, this made FBS forex broker got many rewards The Best Forex Broker In Asia until now.

Trading with FBS forex broker have many benefits, one of the benefit is small spread and using 5 digit pricing behind decimal and bonus until 50% on each deposit made.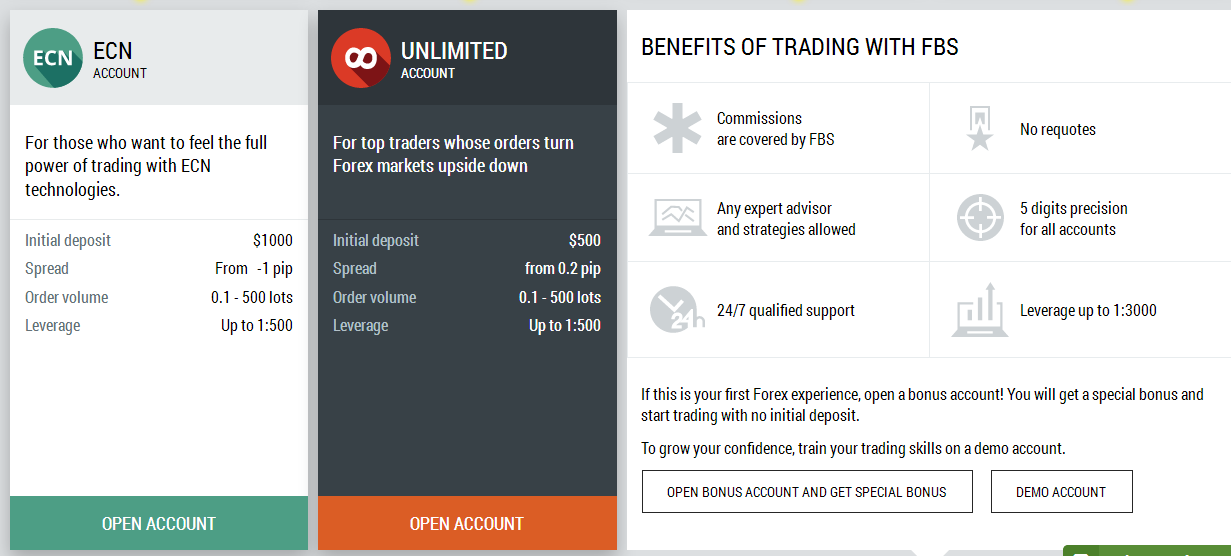 Beside we can get rebate 2.2pips if we register on their IB program.
FBS forex broker also provides high laverage until 1:2000 and open minimum open lot 0.01lot which 1 pip equal with $0.1.
See details below of fbs forex spreads :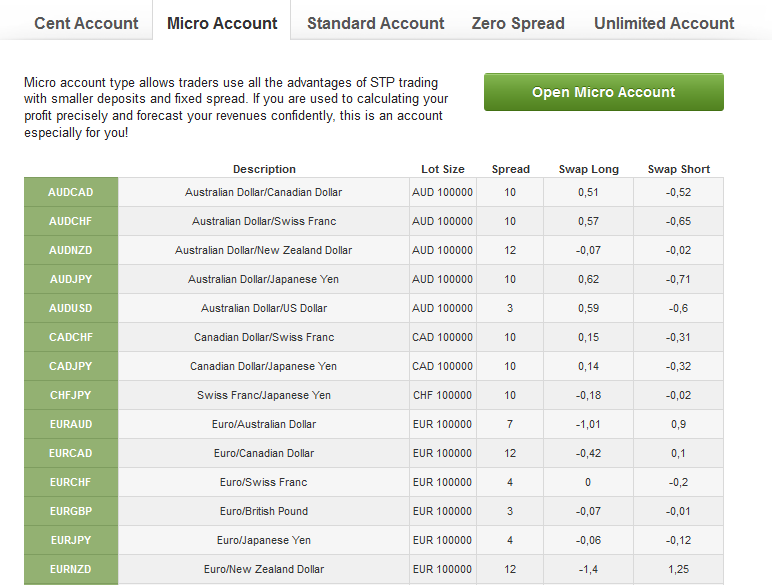 FBS Account Types Comparison Details :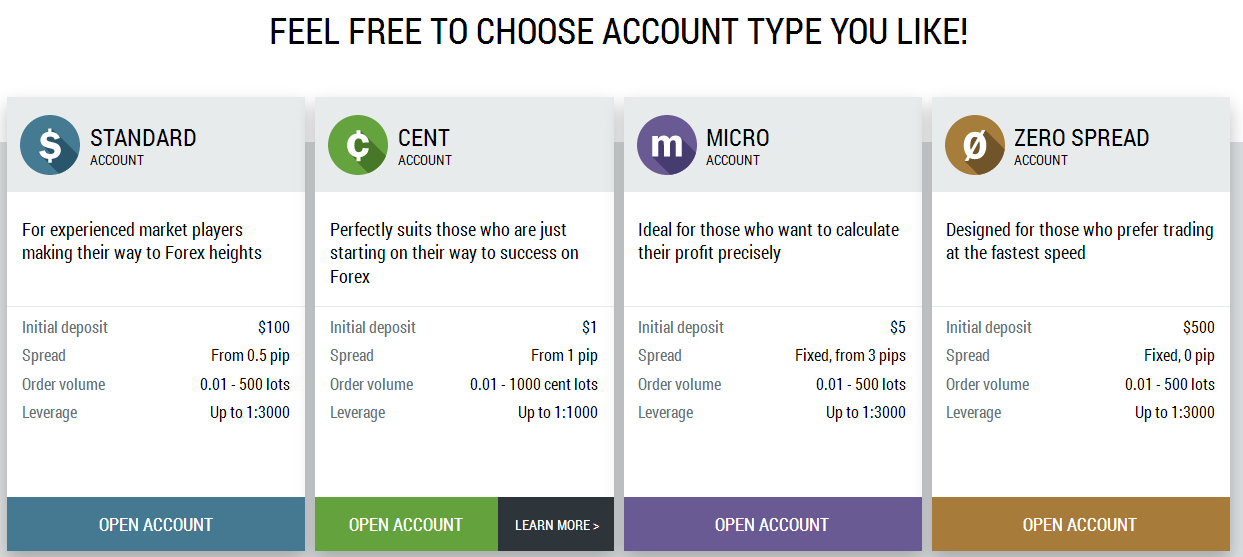 Trading server schedule: From Monday 00:00 till Friday 23:00 , GMT+2
Lot is the standard order size. 1 lot represents 100,000 units of base currency
Margin Call – is a warning that your account balance has fallen below the required margin (calculated in per cent rate). It means there is not enough equity (floating profits – floating losses + unused balance) in your account to support your opened orders. When this happens, FBS is entitled but not to close all the open positions due to the lack of free margin. But still calculate which order will closed based order lot sizes. FBS have a fair calculation.
Stop Out – is a minimal level of margin. At this level MT4 will be automatically closing your orders in order to prevent the account balance from falling below.
Hedging – is the opportunity to buy and sell the same currency pair at the same time.
Curious about trading with FBS forex broker ? You can visit and test your skill on fbs demo contest where held every month using demo account and you can get real prizes with real money that you can withdrawal from it.
FBS Deposit and Withdrawal Options :


Almost forget, FBS forex broker offering free $50 with open real account and you can trade with $5 until 20lot, after that you can withdraw your profit. 😉
Trading and making profit with FBS is now easier and faster than ever!
Instant funds withdrawal is available to each and all of FBS clients. Our company doesn't charge any fee for this service.
How does it work?
1. Make a deposit to your account using one of the following payment systems:
· Perfect Money
· Neteller
· Webmoney
· Fasapay
2. Trade and make profit.
3. Instantly withdraw funds to the same wallet that you used for deposit.

Beside FBS broker provides many options for deposit and withdrawal too, FBS forex broker also allow using many types of forex expert advisor too if you want trade using this kind of forex robot.And now, FBS launch a new programs which called FBS Auto Cup. Any traders who registered on this FBS Auto Cup will have the great chance to get one of three luxuries car. And FBS draws 3 unbelievably luxurious cars simultaneously!
You can register an unlimited amount of your trading accounts in the promotion and become a lucky owner of a Mercedes-Benz CLS, a Porsche Panamera or a Range Rover Evoque.


Just Open FBS Real Account and make deposit $500 and take part with this great lucky contest by click pictures below on our fbs client cabinet.


or just open promotion tabs and find FBS Auto Cup.
Contest conditions:
FBS Auto Cup contest is held by FBS from 22.09.14 to 27.02.15;
All the current and newly registered clients of FBS regardless of their country of residence are eligible for FBS Auto Cup contest participation;
Personal area of each participant must be verified;
FBS clients can register their trading accounts of any types in the contest. The amount of contest accounts belonging to one client is unlimited;
In order to get a participant number in FBS Auto Cup, it is necessary to make a deposit starting from 500 USD (single of in several parts) since the date of the contest start and trade at least 3 lots on it during the contest period;
Only those accounts that do not take part in any other FBS promotions and have no bonuses credited on them can take part in the contest;
The contest includes a drawing of 3 cars as follows: Porsche Panamera, Mercedes CLS, Range Rover Evoque, which will be presented to the three contest winners;
The winners of the contest will be defined on 27.02.15 online randomly by choosing the winning participant numbers with the help of an automatic lottery drum;
The prizes will be delivered to the winners before 31.03.2015. Configuration and color of each prize is defined by the available items in the country of winner's residence;
All the expenses related to the prize delivery and registration of ownership are covered by FBS;
The prize cannot be received in a cash equivalent;
Client's confirmation to take part in the contest implies his agreement to: give an interview, shoot of a video-interview, publish it them further in mass media; provide the company with the right to use his picture and full name for promotional purposes. Copyright on all these materials will be reserved by FBS;
Should FBS suspect a client in violation or an attempt for violation of the promotion conditions or any kind of abuse towards the company, the company has the right to refuse client's participation, freeze or terminate client's participation in the promotion and as circumstances may require (temporarily or constantly) block client's trading account;
FBS reserves the right to alter or cancel any of the promotion conditions anytime or terminate them completely on an unilateral basis;

I've hope with FBS forex as one of many references from great forex broker on this blog, we can more understanding about their best offering preferences before we made decision to trade with.
Get Free 100% deposit bonus with fbs in no deposit bonus forex account to start your trading journal.